Farmhouse style home decoration is so charming, warm and cozy. One thing that catches my attention when it comes to a farmhouse styled home is the use of rustic wood signs with hand writing style quotes.
Farmhouse signs give distinct look to any room of a house, whether it is the front entryway, the living room, hallway, dining room, laundry room and even bathroom. 
Rustic farmhouse signs can be quite expensive to order a custom one on Etsy. However they are not difficult to make one.
In this post, I am sharing 10 different farmhouse signs and tutorials that you can easily DIY one. 
Check out these farmhouse sign ideas from my blogger friends below to create unique work of art for your home sweet home.
Want to buy a farmhouse sign instead of DIY? No worry, for each DIY farmhouse sign featured below, I have included similar farmhouse sign products that you can easily buy from Amazon and ship to your home. 
Most of these farmhouse products items should be available on Amazon Prime with free 2 days shipping. If you don't already have Amazon Prime, you can always sign up for a free 30 days trial to take advantage of the fast shipping now!
1. DIY Farmhouse Sign with Pallet Wood and Repurposed Lug Wrench
If you love rustic farmhouse home decor, you will love this pallet wood farmhouse sign with a repurposed lug wrench from Making Manzanita. I really like the simple light grey pallet wood backdrop of the sign. The repurposed lug wrench is such a great accent to add the rustic touch to this art piece. 
2. DIY Two Sided Farmhouse Sign
Debbie from Refresh Restyle has this brilliant idea to make a two sided farmhouse sign that you can put in your home all year long to decorate for Christmas as well as regular days. One sign of the sign has the hand lettered "gather" word and the other side of the sign has a traditional "Merry Christmas" block and script font duo. You can show the "gather" side for most of the year and then flip to show "Merry Christmas" during the holidays. I adore this idea so much. Click on the image below to check out the tutorial of making this DIY farmhouse sign at Refresh Restyle.
3. DIY Farmhouse Sign: Personalized Love & Shenanigans
Love this DIY farmhouse sign with personalized love inspirational quote. Check out the tutorial from Where The Smiles Have Been on how to make this lovely sign. It's perfect to DIY one to decorate a new home or give it as a DIY farmhouse gift to your dearest friends and family who have just moved into their new home sweet home.
4. DIY Wash, Dry, Fold, Repeat Farmhouse Laundry Sign
Before I met farmhouse home decor, the biggest challenging room for me to decorate in my house is the laundry room! Now it is no more. In fact, laundry room has become the most fun room to decor with farmhouse signs. Check out this adorable DIY "Wash, Dry, Fold, Repeat." farmhouse laundry room sign by Little Red Window. It's rustic, simple and fun. Loving it!
5. DIY White Chippy Paint Sign For Farmhouse Bathroom
This "Flush" farmhouse bathroom sign is such a perfect decor for the bathroom. Check out the steps by steps instructions from Cherished Bliss.
6. DIY Farmhouse Sign With Shiplap – Marriage Quote
Perfect wedding gift for the farmhouse fans. Love this simple and charming DIY farmhouse sign marriage quote. Check out the tutorial from Making Manzanita on her website.
7. DIY Farmhouse Chalkboard Style Signs For The Home
Farmhouse quotes + chalkboards = perfect farmhouse style signs. These chalkboard farmhouse style signs are very easy to make. Amanda from Domestically Creative has put together a steps by steps tutorial to walk you through the steps. Click on the image below to check it out.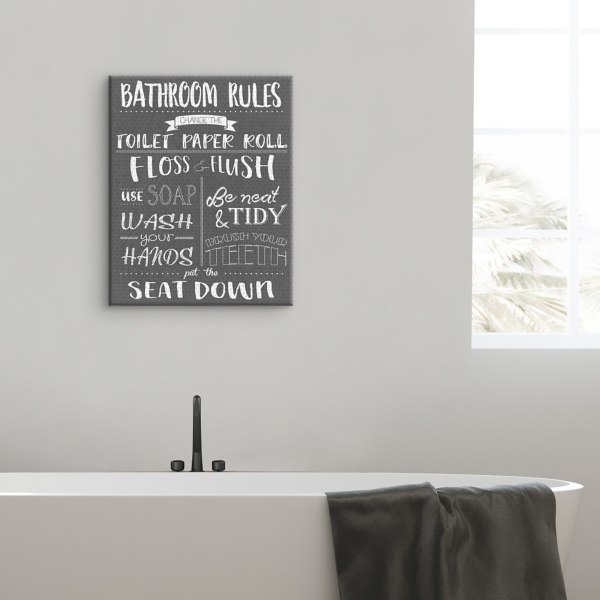 8. Free Range Children DIY Farmhouse Sign
Do you have young children in your house? If so this DIY Free Range Children farmhouse sign will bring lots of smiles and laughter to your home. Check out the tutorial shown at Refresh Living to learn making this simple and fun farmhouse sign for your home.
9. Rustic DIY Farmhouse Sign With Stencil
I love those large farmhouse sign that you can hang on top of a big double door or near the ceiling of the kitchen. Medina from Grillo Designs shows you the easy steps to make a big DIY farmhouse sign using stencils. Check out her post by clicking on the image below.
10. DIY Large Wooden Sign Using Cricut Explore
Do you have a Cricut Explore at home? If so, you can easily make this large wooden sign by using a pre-designed quote. Check out the tutorial from Cherished Bliss below to download her design file and make this lovely farmhouse sign with your Cricut Explore machine.
Which DIY farmhouse sign featured in this post is your favorite? Do you have other great ideas of making easy farmhouse signs? Comment below and share with us.